Fearless Faith: Christian Leaders in Tajikistan

3.07.2018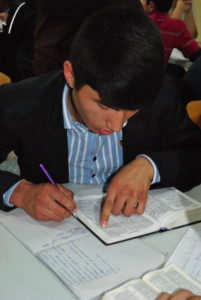 "Evangelical churches in our country are not very numerous, but we aspire to impact our society and we are grateful to School Without Walls for their help in this," shared Arash (name changed), a national School Without Walls (SWW) coordinator for Tajikistan, speaking to 80 young Next Generation Christian leaders at a Next Generation Professional Leaders Initiative (NGPLI) conference last week.
Tajikistan is over 90% Muslim, and Christians who openly share their faith risk persecution from their families, in the educational system, and from employers. Therefore, the goal of the conference was to pass on a vision of influential Christianity to these young Tajik Christians and to inspire and teach them how to be witnesses for Christ and transform their society through treating their workplace as a mission field.
Bahram (name changed), a university student, shared how the conference's message impacted him: "It's not easy being a Christian in our country. Many people tell me that I've betrayed the faith of our ancestors. It's difficult to find work in Tajikistan, and a majority of men find that they must travel to Russia to find jobs to support themselves and their families. But I don't want to leave – I love my country, and I want to serve Christ here! This conference has helped me understand how I can do that. I was inspired by the vision of sharing Christ in the workplace. I believe that God will help me find a job in Tajikistan which will allow me to be a witness for Him among my future coworkers!"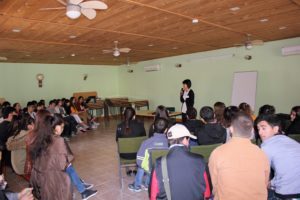 The conference served as a follow-up to the first NGPLI Forum in Central Asia, which brought together 500 participants from around the region in Kyrgyzstan in November 2016. It is important for Christians in these countries, where openly evangelistic events are not allowed and believers face heavy restrictions on their activities, to gather together to encourage and learn from one another in their efforts to influence their communities for Christ.
Kamran (name changed) is a high school teacher and youth ministry leader, as well as a local SWW coordinator. "I brought 14 high school and university students from my town to this conference," he shares. "It's important for them to see other believers and to hear that they are called by Christ to have strong faith as leaders. They are all first generation Christians, and many are experiencing persecution in their families, but SWW and this NGPLI conference are helping lay the foundation in them for powerful, committed Christian life and ministry. I will continue to mentor and disciple them and help them grow in this after the conference."
Thank you for investing your faithful prayers and support in young Next Generation Christian leaders in Central Asia, who are transforming their countries with the gospel despite many challenges!