Sharing the Gospel with Muslim Neighbors

3.01.2018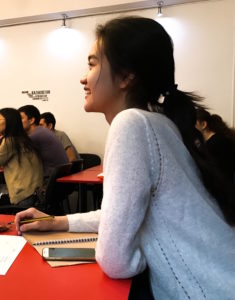 Mara (name changed) grew up in a Muslim family in Azerbaijan, but was introduced to Jesus when she fell in love with a Christian man! After graduating from School Without Walls (SWW), she and her husband now host a SWW group in their home and mentor young Christian leaders, while sharing the gospel with their Muslim friends and neighbors. Mara shares how God changed her heart through the faith of her husband:
"I grew up in a Muslim family, so my parents raised me according to Islamic law. From a young age, I was told that my purpose was to get married and have children, just like my mother and grandmother did. I never imagined that my husband would be a man of God, but when I first met him, he talked with me about the gospel, which was so different from what I was taught by my family.
"At first, I didn't take what my future husband had to say seriously, but over time, I became more and more interested in Jesus. Every time we talked, I wanted to learn more and more about Him, but my Muslim upbringing made it difficult for me to accept Christ as my Savior. I knew that being a full-fledged Christian in a traditionally Islamic culture would most likely lead to broken relationships with my family and friends. But despite these obstacles, I made my choice and married a Christian man.
"I am so thankful that I did this, because I finally accepted Jesus into my heart and my children were born into a Christian family. Eventually, I realized that my neighbors would never hear the Good News of Jesus unless I told them about Him myself. With this realization in mind, my husband and I started hosting a SWW group at our house. We tried to share the gospel in a friendly, respectful way so as not to turn away our Muslim neighbors. We spent most of our time talking about the Good News, rather than reading Scripture. We practiced this technique with our relatives first, and I saw their attitude toward Christianity change right before my eyes. My husband's mother even became a Christian after many years of rejecting Jesus!
"After a while, we started inviting people from neighboring villages that have never been exposed to the gospel to attend our SWW group. We also hosted puppet shows for children and distributed gifts during the Christmas season. We expanded this puppet ministry by renting real puppets and organizing shows throughout Azerbaijan. During these shows, my daughter and other young Christians talk with the other children and help them answer questions about God. Afterward, we play games at our house, where we also tell stories about the prophets who pointed the way to Jesus.
"By conducting children's ministry, we are bringing the gospel into the homes of Muslims in our nation. This summer, we performed puppet shows at summer Bible camps in 10 different villages where there are no Christians, and during these camps, many children heard the gospel in a way that they could understand."
To support the ministry of local Christian families like Mara and her husband, who are lovingly sharing the Good News in places closed off to the rest of the world, please give to our School Without Walls ministry today: