Meeting Jesus at Summer Bible Camp

2.05.2018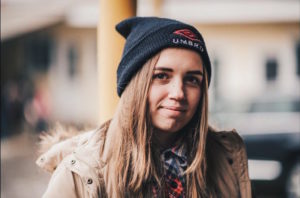 Sasha is one of our current School Without Walls (SWW) students in Moldova. After many years of rebellion and atheism, Sasha felt hopeless, and even attempted to commit suicide. But God intervened and broke through her hardened heart, bringing her to a Veritas summer Bible camp last year, run by some of Mission Eurasia's SWW students and young leaders. In her own words she shares her testimony and how God is now using her to mentor troubled teens who feel the same fear and anger that she once felt:
"If you asked me five years ago if I believed in God and in the meaning of life, I would have answered that neither one existed," shares Sasha.
"I grew up in a family with different views on faith. My parents never believed in God and still don't believe in Him. Both of my grandmothers are Orthodox. One grandmother took me to various Orthodox churches when I was a child and had me acquainted with different Orthodox practices.  I really was interested in all that, but to all my questions 'Why?' she always answered, 'Because it has to be so!' so at one point I started suspecting that she was lying to me.
"When I was six, we had a moral and spiritual class at school. A very sweet young lady told us about God, how He created us, and how He gave His son for our sins. So I wanted to know if it was all true or not. I went to ask my mom if she believed in God. Her answer was, 'no' and at that time my mother's opinion was the one that I trusted the most. And so I decided that I wouldn't believe in Him either. And for several years, nobody could persuade me of anything different.
"My mother, reflecting on my childhood, says that I was an amazingly obedient child. Maybe that was why I was very difficult as a teenager. Starting from eighth grade, I was one of the most difficult children at school. I was very stubborn, rude, mischievous, and contentious; I never obeyed anyone and allowed myself to be defiant, always arguing my point. And even though I was that way, I still had friends. They were bad company, and it wasn't just that I fell in with the wrong crowd of people. I was the one who gathered together that bad crowd of people.
"Just think of the most horrible things that your child can do at age 15. We did all of that. Why? At the very least, because we were bored and nobody cared for us.
"My parents didn't know what to do with me. I wasn't responding to psychologists, and I avoided teachers all the more. It's so horrible when you are 16 and you have so many thoughts and you have no one to share them with. In my school file it said that I was in the risk group and in brackets it said 'suicidal intentions,' and that was for a good reason. At 16, I tried to take my own life. I still have scars. What saved me was that the knife wasn't sharp enough and my friends happened to be nearby.
"In summer of 2016 when I was 18 and had already graduated from high school, passed all the difficult exams, and met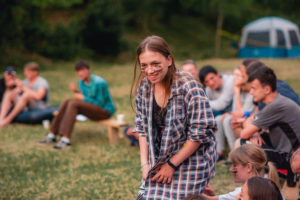 new good friends, I found out about Veritas summer camp. I had been involved in sports tourism for six years, so a tent camp in the woods sounded really exciting! Nothing was going to stop me from going to that extreme camp! I am pretty sure I only found out that it was a Christian camp after my bus had already left. I didn't have my friends with me (some couldn't go and some didn't want to go), but something on the inside was pushing me to go, even by myself. Now I know that that something wasn't just my passion for tourism. It was really easy to find new friends at the camp. I think that Veritas draws in the very best people. That camp totally changed me and the way I viewed the world. I experienced what it felt like to really believe – believe without being false, just wholeheartedly believe in Jesus, talk to Him, and see His work in my life. I had left home to go to the camp being 100% skeptical, and when I came back it was the first time in my life that I prayed. I prayed that Jesus would be in my life, that I would believe even more genuinely in Him, and that He would always be with me.
"I wanted to continue talking to these Christian people from the camp after it was over, so that was how I ended up in the Lighthouse club. I started changing daily through that club; I was also growing spiritually and showed it with my deeds. My mother couldn't understand what was going on with me. I couldn't wait to go to the Lighthouse club every single Friday, and I was losing more and more of my old friends who were a bad influence.
"As the time was going by and my scars on my arm were not disappearing, I decided to cover them up with a tattoo. So I decided on a tattoo, and a few days after that I was invited to join the Lighthouse team. I couldn't believe it! That was my tattoo – a Lighthouse! For me it's a symbol that no matter what happens, no matter how bad I feel, I know where to go to find the light that will dispel my sadness: Jesus.  That moment became very important to me, because that was how my ministry started.
"I went to the Veritas camp the first time to have fun, but the second time I went to Veritas, in 2017, I went with one objective in mind: to find out more about Jesus and do everything to follow Him and totally give my life to Him. I talked a lot to the camp counselors in the evenings.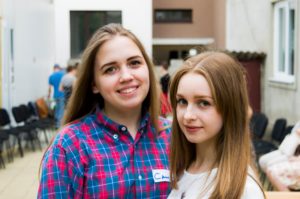 "Each participant of the camp was given a beautiful New Testament in a design for young people. I saw the camp counselors reading Scripture in a way that seemed like they did not need anything else in the world except for God's Word. So when I received my gift of the Bible, I also opened it and started to read. I knew that this book can leave a deep footprint on your life, but I never knew that it could become a part of your life!
"On July 16, 2017, I came to the Lord. Almost five months have passed since then. What has changed in my life since that moment? I now go to Church Without Walls.  I am also a part of School Without Walls (SWW). I have started praying much more and have started noticing God's work in my life. Sometimes it even surprises me how quickly He answers my prayers. It's absolutely amazing! I now have God in my life and my biggest fear – the fear of being alone – is gone forever. I know that I can always talk to Him and receive an answer. I know that He is near and He hears me, He supports me, and He keeps me safe.
"I am a SWW student because God did everything so that I can come to this. Because of SWW I can be a minister helping young people to find out about God the way my mentors are helping me now. I am receiving priceless knowledge that will help me change and also help other people around me change. I am grateful to God that He has entered my life and has changed it so drastically. I also believe that my ministry will bring fruit and someone else's life will also drastically change because of how God will use me. Now my life has sense and meaning because of Him."