Olesya's Story: Finding God's Light in a Dark World

3.07.2018
In the midst of the spiritual emptiness spreading across Russia, Light Magazine–a beautiful evangelistic magazine containing the Gospel of John and designed and printed in partnership with ShareWord Global– is helping young people choose to follow Christ, rather than living for the world. These remarkable young people, like Olesya, are spreading God's Light to their communities and families:
Olesya is 15 years old and was born in South Ossetia, but her family moved to North Ossetia not long after her birth. There they started going to church, where Olesya's brother and parents were baptized. After becoming a believer, Olesya's father stopped drinking and swearing. "I was so happy that my family became Christians, because we finally got along," she shared. However, after some time, Olesya's father left the Church because he was angry that so many people claimed to be Christians but didn't live in line with God's teaching. Sadly, his disappointment led him to start drinking and smoking again.
Despite her father's decision, Olesya still attends a home Bible study and the youth group at her church. She has also participated in several boxing tournaments, where she has won many awards. Now, Olesya strives to be a world-champion boxer, however widespread corruption in Russia has made this very difficult. For a while, she found herself wondering how God could allow such injustice. "I was working so hard, so I didn't understand why I was facing so many difficulties," Olesya recalled. "One day, I was upset, so I opened Light Magazine and read these words: 'The sun may be your light for the day, but the Lord will be your eternal Light.' My heart was instantly filled with joy! I began to understand that God allows struggles in our lives so we can grow stronger and learn to trust Him."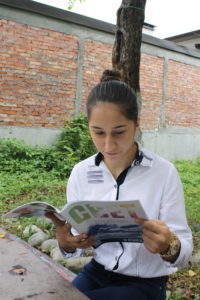 While boxing is very important to Olesya, serving the Lord is even more important. If she has to choose between going to Biblestudy and training, she always chooses Bible study. Because she recognizes that studying God's Word and being in community with other Christians is so important, she actively shares the gospel with her peers, even during her training sessions. Many of the young people she talks to are interested in Christianity, but sadly, her teachers call her a sectarian. Despite the poor treatment she receives from her teachers, Olesya continues to trust that God will provide. She also loved the Light Magazine that our School Without Walls (SWW) students gave her, and because of the artistic, youth-friendly design, she can easily share it with her friends.
"This year, I served as an assistant to the SWW leaders at a summer Bible camp for the very first time," Olesya shared. "For me, this experience revealed a whole new aspect of the Christian life, as I learned how to share the gospel with children. Now I want to study at a Christian university and pursue a theology degree. I'm planning to start studying at SWW this fall, because I believe it will help me learn more about God and provide experience that will help me serve more effectively and grow my faith. I've learned that it is important to look at Christ rather than others as the example for how we should live. And without Him, our worldly achievements are worthless. I am so thankful that I can serve in my church."