A New Family in School Without Walls

3.07.2018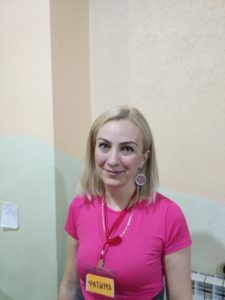 After suffering from divorce and a tragic car accident, Fatima felt hopeless and bitter. But God intervened in her life in a miraculous way, just when all seemed lost. Fatima shared her testimony of faith with us and communicated the transformative impact that the witness and love of our School Without Walls teachers and graduates had on her life:
"I used to be very arrogant and proud. I didn't believe in God, and I refused to acknowledge His existence. Since religion in Ossetia is a mixture of paganism and Christianity, many people are very devout, but they also worship false gods and build temples and altars to perform senseless rituals. My family would often reproach me for refusing to take part in their pagan rituals, but I argued that, if there was no God, then it didn't make sense to do these rituals, and if He did exist, then He would accept me even if I didn't do them.
"After my husband divorced me and left me to raise our son on my own, I became even more bitter. Not long after, I was in a bad car accident that left me bedridden for two months with a broken spine. I couldn't understand why this had happened to me, but when the doctors told me that it was a miracle that I had even survived, I realized that God was giving me a second chance to accept His gift of salvation.
"After this, I asked my Christian friend for a Bible. I started reading the New Testament and learned that Jesus raised the dead and healed the sick, and I realized that only He would be able to heal me. Before I was taken into surgery, I prayed that God would help me to trust Him, even if the doctors weren't able to fix my spine so I could walk again. My surgery was very complicated because the doctors had to replace several of my vertebrae with titanium pieces. Afterward, the doctors said, 'We don't know what God you prayed to, but it's a miracle that you are able to walk, and that you even survived the surgery.'
"When I returned home after my surgery, I started going to church, and after a while I finally repented. I realized that, before accepting Christ, I was simply existing but not really living. My real life began at church. I finally had real friends, brothers and sisters in Christ, who offered me committed spiritual support. Two of my closest friends are Sophia, who is a School Without Walls (SWW) teacher, and Zarina, a SWW graduate. Since I turned to God, I have never felt lonely. And now my son is also feeling drawn to church, and he no longer enjoys spending time with his non-Christian friends. Instead, he prefers talking with young people from my church.
"Now I am very active in my church, and I have started serving in children's ministry. I praise God for saving me and for giving me the opportunity to walk again so I can serve Him. The support and love I have received from my church and the SWW leaders is more than I ever received from my own family. I am so thankful that God has given me this wonderful, abundant life!"