Called to Serve: Alexei's Story

2.05.2018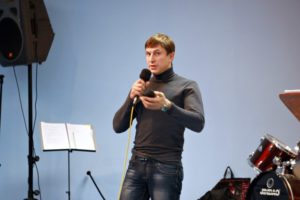 Alexei Yuditsenko is our School Without Walls (SWW) coordinator in Berdyansk, Ukraine. He believes that Mission Eurasia's SWW leadership program—which he participated in and now helps lead—was the driving force behind the restoration of his spiritual life and the beginning of his holistic ministry.
Even at a young age, Alexei was a strong leader. He grew up in a family of believers, and as a child he went to church, Sunday school, youth group, and many other church-related activities. When he was 17, Alexei started a youth ministry in a Baptist church in Berdyansk, and he soon became the leader of this ministry. While he was leading, the ministry grew significantly, and a lot of young people came to Christ. Alexei was motivated to start this ministry because of the training that he received at SWW seminars, as well as his personal relationships with the SWW teachers.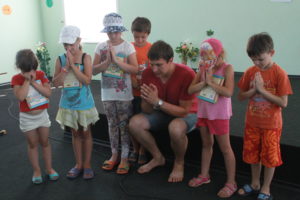 Some years later, however, the other youth ministry leaders began to incorporate contemporary views into their presentation of the gospel, which Alexei did not agree with. After trying to talk with the other leaders about his concerns, he was excluded from the ministry, and he could no longer serve in the church. At this time, Alexei started working as a manager in a construction store, and he was very discouraged. He lost his motivation, and because he felt that he had no purpose, he started giving in to various temptations.
Soon, Alexei's family was on the brink of destruction, so some of the SWW teachers began talking with him, and he finally agreed to work on restoring his family. He left his job at the construction store, and he opened a small window business. He also cut all ties with the people who were leading him into temptation. This difficult period started when Alexei was 24, and it lasted until he was 27. He believes that God used SWW to help him through this difficult time and strengthen his faith.
After God healed his wounds, and restored some of his old friendships, Alexei began actively serving in the New Hope Mennonite Church in Zaporozhye. A few years ago he organized a SWW leadership team, which was made up of some his friends and acquaintances that were already believers. And a few months after that, he organized a weekly ministry for children in need, which is now serving many local children from refugee families.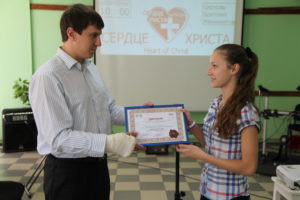 Today, Alexei serves as the Berdyansk School Without Walls coordinator! Through this ministry, he is helping to train and equip many young Christian leaders for effective, holistic, and compassionate ministry in their communities. The SWW group in Berdyansk is also hosting evangelistic Bible camps each summer for children and youth and distributing Gifts of Hope to children in need during our annual Christmas outreach. Alexei's SWW group is also actively bringing food and other humanitarian aid to refugees in the conflict zone.Two years ago, Alexei and his wife, Julia, began studying counseling at a local college to prepare them to care for the needs of the SWW students. Because he experienced a time of suffering in his own life, Alexei is well aware of the pain that broken people feel, and he believes that God has called him to serve them through SWW, just as SWW teachers supported him during his time of need.We are so grateful for dedicated young Christian leaders like Alexei who are using their School Without Walls training to serve God's Kingdom in their own communities—and impacting hundreds and even thousands of people with the light of the gospel.