Action Bible New Testaments for Ukraine

10.10.2019
God has given us the big dream of reaching the Next Generation of children in Ukraine with the gospel message. Today, there are nearly four million school-aged children in Ukraine—many of whom have never heard of Jesus or received their own copy of God's Word.
The need for hope and guidance among these young people in Ukraine is great. Ukraine has one of the highest rates of HIV in Europe, along with soaring rates of drug use and suicide among youth. The ongoing conflict in eastern Ukraine has displaced millions of people from their homes, and there are nearly 100,000 orphaned and abandoned children in Ukraine who are crying out for the love and hope that can only be found in Jesus. The gift of one Bible can change a child's life forever—and transform an entire family as they learn about Jesus from the pages of God's Word.
Our president, Sergey Rakhuba, remembers how rare and precious Bibles were when he was growing up in Ukraine under Soviet oppression. When Sergey's father borrowed a hand-copied Bible, which had been smuggled into the country, for their family to read, it was more precious to them than gold. Today, after the fall of the Soviet Union, Ukraine is much more open to God's Word, but thousands of children are tragically still growing up without a Bible of their own or hope for the future.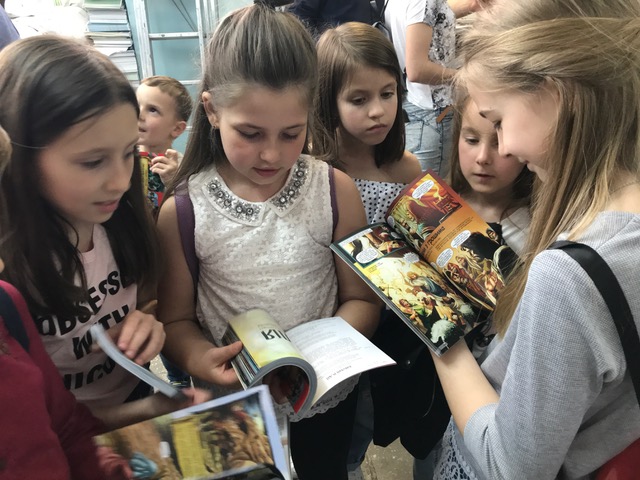 These precious boys and girls need to learn about their Savior in a way that is fun, age-appropriate, and easy to understand.
That's why we are partnering with one of our long-time friends and co-laborers in the gospel, Bill Kapitaniuk, to help raise the funds to print 100,000 copies of the Action Bible New Testament in the Ukrainian language, which will be placed in the hands of school-aged children throughout Ukraine.
Bill has dedicated nearly his entire life to proclaiming, printing, and distributing God's Word as a missionary to Eastern Europe, and we are excited to partner with him in this project.
With colorful illustrations and exciting, easy-to-read stories, the Action Bible New Testament captures the imaginations of young people as it teaches them about the life-changing message of Jesus. This specially designed resource, published by David C. Cook, is an effective tool for evangelism and discipleship in the hands of Christian leaders and churches in Ukraine as they reach the Next Generation of youth for Christ. A gift of just $1.50, the price of a chocolate bar, can provide an Action Bible New Testament for one boy or girl. A gift of $15 can provide 10 copies of this special Scripture resource, a gift of $30 can provide 20 copies, and a gift of $60 can provide enough copies for 40 boys and girls in need of God's Word!
And thanks to the generous gifts of two other faithful supporters, each $1 given to this special project will be matched, up to $50,000. Imagine how many children you could impact forever through your matched gift to provide this exciting Scripture resource!
For supporters who give a gift of $30 or more to provide Action Bible New Testaments for Ukraine, we will send a copy of Bill's book titled God's Printer for Ukraine and a copy of our co-founder Anita Deyneka's book Tanya and the Border Guard. These are both compelling first-hand accounts of God's faithfulness and miraculous provision to print and share His Word in Ukraine and the former Soviet Union, and you won't want to miss out on these faith-building stories. Please rush your gift today to help us place a copy of the Action Bible New Testament in the hands of 100,000 boys and girls in Ukraine. Remember, each $1 given to this special project will be matched, up to $50,000. Double the impact of your gift today!
You can give a gift online by visiting our Donate page and selecting the "Action Bible New Testaments for Ukraine" designation. You can also give over the phone by calling our office at the number listed below, or by mailing a check to the Mission Eurasia office: P.O. Box 496, Wheaton, IL 60187. Please make checks out to Mission Eurasia and write "Action Bible New Testament" in the memo line.
Please contact the Mission Eurasia office with any questions about this project: info@missioneurasia.org or 630-462-1739.
Thank you for partnering with us in this impactful outreach to the children of Ukraine!
About Bill Kapitaniuk
For many years, Mission Eurasia (formerly Russian Ministries) has shared a ministry connection with Bill Kapitaniuk. Our founder Peter Deyneka Jr's father, Peter Deyneka Sr, founded the Slavic Gospel Association, where Bill served as a missionary for many years to the former Soviet Union, and he shares our passion for reaching the Next Generation in Ukraine with the gospel.
Bill's personal story is an exciting tale of faith, adventure, and God's provision. Bill was born in Canada to Ukrainian parents who had fled from Ukraine under Soviet Rule. While studying as a young man at the Prairie Bible Institute in Alberta, Bill heard Peter Deyneka Sr. speak about the urgent need for the gospel among the Slavic people in Eastern Europe, and he immediately felt God's call to bring the Good News to this area of the world.
After discovering the desperate need for Scripture in the Soviet Union, where all Bibles had been banned, Bill began smuggling Bibles into Soviet-occupied Poland. There, Christians living on the Soviet border carried and distributed these precious copies of Scripture throughout the Soviet Union. This gave Bill the dream of starting a Christian printing plant in France, where millions of copies of God's Word could be printed and smuggled over the border for the spiritually hungry people of Eastern Europe and the Soviet Union. With God's miraculous provision, this dream became a reality. And after the fall of the Soviet Union, God provided the opportunity and resources for Bill to open up another printing plant in Lutsk, Ukraine in 1993, that has since printed more than 14 million copies of Scripture! It is this very same printing press that is printing these copies of the Action Bible New Testament for the children of Ukraine.