2018 World Soccer Cup: An Epic Opportunity to Reach Russia for Christ
Russia needs the gospel now more than ever. It breaks our hearts to watch as a new Iron Curtain lowers over Russia and evangelical Christians face increased pressure from the state to keep silent about sharing their faith with unbelievers. Russia's efforts to restrict mission work outside the walls of registered churches make it all the more important for our young leaders in Russia to find strategic and innovative ways to share the gospel in this challenging climate.
That is why we are so excited about an epic opportunity this summer to partner with evangelical churches in Russia to reach 500,000 Russian people with God's Word during the 2018 World Soccer Cup!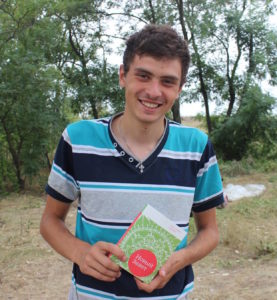 From June 14-July 15, hundreds of thousands of people—hungry for hope and meaning—will pour in from all over Russia to 11 cities where the World Cup soccer matches will take place. Our young national leaders—trained and equipped by Mission Eurasia—are partnering with 250 registered national churches to project the games onto big-screen TVs and distribute copies of God's Word in Russian.
Under the legal umbrella of these registered churches, our young leaders will strike up life-changing conversations and form friendships with thousands of men, women, and youth who do not know Jesus.
To make the most of this God-given opportunity, Mission Eurasia plans to print a total of 500,000 pieces of Scripture in Russian, including 100,000 New Testaments, which will be distributed at these churches during the World Cup. A generous major ministry partner has already pledged a matching gift to provide half of the New Testaments needed for this outreach.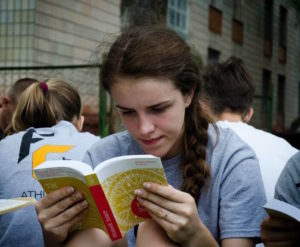 We still need to raise the remaining $75,000 to meet the match and begin printing the New Testaments in Russian. Would you help us reach our goal by considering a gift of $45 to provide 30 New Testaments, $90 to provide 60 New Testaments, $180 to provide 120 New Testaments, or more?
Overall, we estimate that we will help reach 2.5 million people through the 2018 World Soccer Cup outreach  in Russia. That's 2.5 million souls who will hear the message of Jesus, many for the first time.
Will you partner with us to make the most of this epic opportunity and transform hearts with God's Word? Thank you for giving generously today to help us impact the hearts and souls of the Russian people for eternity!
To give to provide Scripture for the World Cup outreach, please choose "Scripture and Christian Literature" as the donation designation.